We_re putting together a collection of_
Tim Hutton
-
2012-01-06 22:27:05+0000
- Updated: 2012-01-06 22:27:05+0000
We're putting together a collection of all the reaction-diffusion algorithms out there, in a cross-platform, open-source app called Ready. Version 0.1 is out now, as a sneak preview - give it a try and let us know what you think. Get involved!
https://code.google.com/p/reaction-diffusion/
The image below shows a 3D Gray-Scott, rendered as a wireframe contour, with a false-color slice through the volume.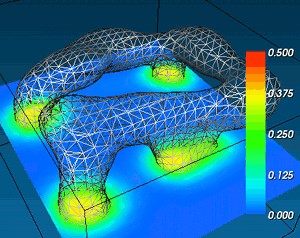 Shared with: Public
This post was originally on Google+